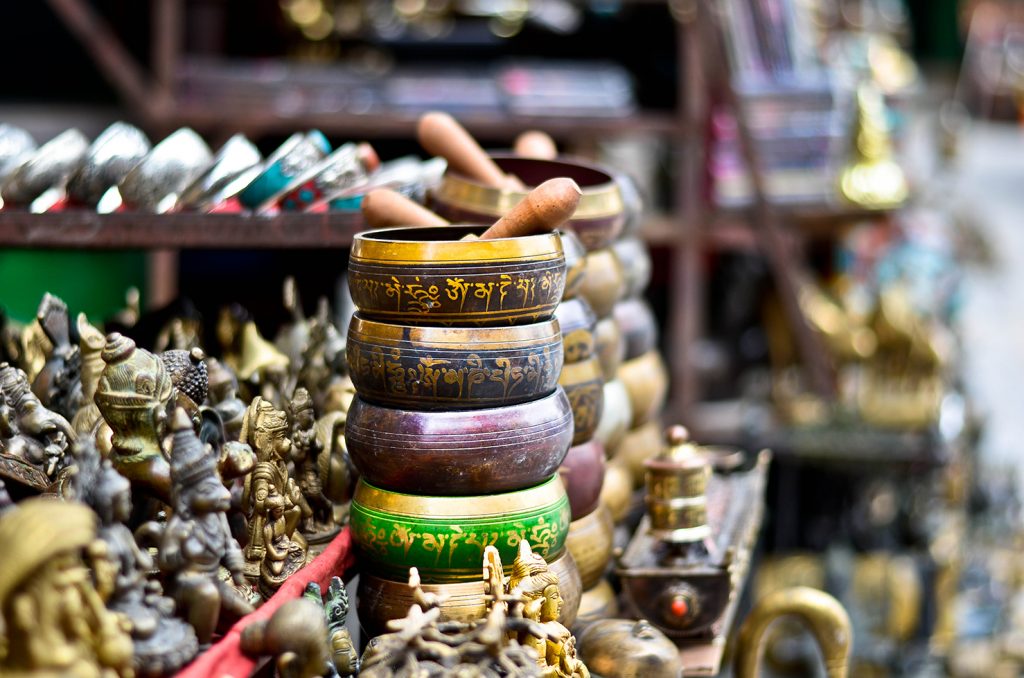 Thamel is a popular tourist district within the capital city of Kathmandu. It's comprised of 5 main streets and many more smaller ones that crisscross the area. It is a haven for tourists visiting the Kathmandu city. It is a colorful and beautiful mixture of craft shops, boutique cafes, trekking gear, and rainbow prayer flags. It is located in the northern region of Kathmandu past the government district on Tridevi Marg. Although some consider it to be overcrowded it has been used by westerners since the 1970's when hippies in the region discovered it. Thamel is an easy walk from anywhere in central Kathmandu.
The Oldest Area in the Capital
Thamel is one of the oldest areas in the capital when it was known as Tabitha Bahal. The old buildings throughout Thamel are designed in Newari style (the first traditional inhabitants of Kathmandu valley). There are many temples, monasteries and shrines in the alleys of the thamel. Vikramshila Mahadev which is more commonly known as Bhagwan Bahal in North Thamel is noted as being the first monastery in the area. Although it is said to be over 1000 years old there are manuscripts inside that date back 3000 years. Further to the south of Thamel is Maitripur Mahabihar Bahal which is also noted as being one of the first monasteries constructed by the Newari people.
Busy Market
Thamel is known by its narrow alleys crowded with various shops and vendors. Commonly sold goods include food, fresh vegetables/fruits, pastries, trekking gear, walking gear, music, DVDs, handicrafts, souvenirs, woolen items and clothes. It contains numerous tour agents, trekking guides, trekking stores, clothing stores, restaurants, cafes and bars all catering to the countries number one industry: tourism. Cars, cycle rickshaws, two-wheelers and taxis ply these narrow streets alongside hundreds of pedestrians. Recently many roads in Thamel have been declared vehicle free zones to avoid crowd and traffic havoc. However, larger vehicles also continue to try entering.
The Most Happening Place
There are many restaurants in Thamel that serve traditional and continental cuisine. The prices are significantly higher in tourist areas than in non-tourist areas. Thamel also acts as the pre-base camp for mountaineers. It boasts a wide range of mountaineering gear shops, foreign money exchange booths, mobile phone shops, along with the numerous guest houses. Thamel is the best place to enjoy night-life. Thamel is home to a wide range of the Nepalese population, and serves both entertainment and employment purposes for the locals around the area.