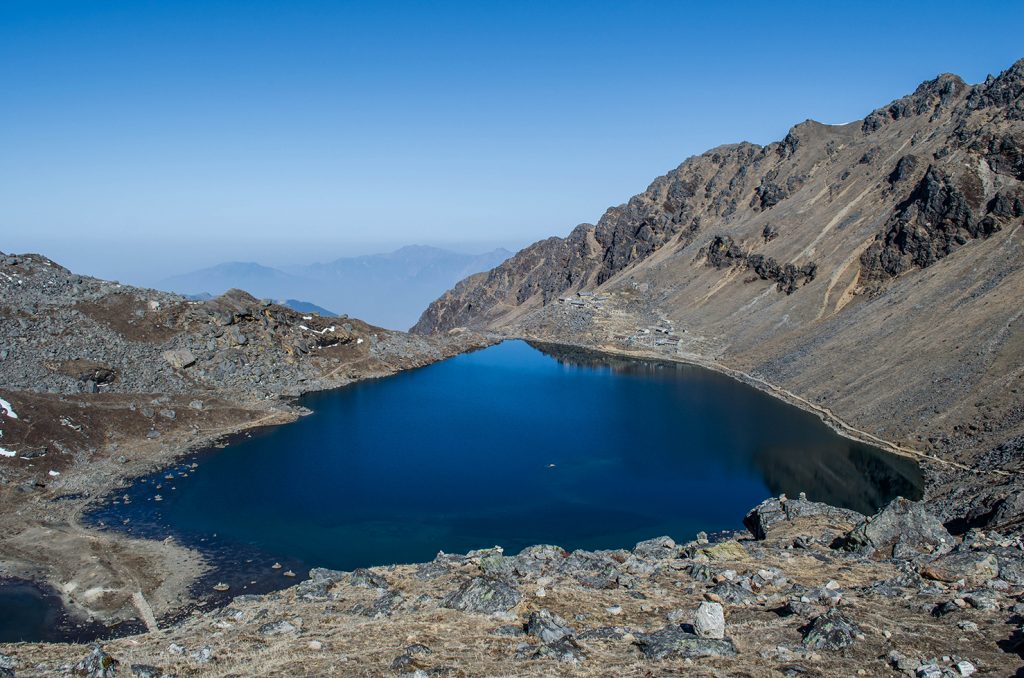 Gosaikunda Lake is one of the most famous religious and pilgrimage sites of Nepal which is located at an altitude of 4,380 m (14370 ft.) It is surrounded by peaks in Langtang National Park in Rasuwa District with a surface of 13.8 ha (34 acres). It is an alpine freshwater lake and a Ramsar site (since 2007) which means a wetland site.
Religious Importance
Gosainkunda is a holy place for both Buddhist(Sharmans) and Hindu Pilgrims. Thousands of Hindu pilgrims visit Gosainkunda to worships God Shiva in Janai Purnima which falls in the month of Bhadra (August full moon day), according to the Nepali Calendar. Where as Sharmans ('Dhami or Jhaakri'), also called Bon-Po in Tamang language and pre-Buddhist visit Gosainkunda on the full moon day from all over Nepal. Devotees come to take bathe in this Lake and to pray homage to Shiva. It is believed that once you take bathe in the holy lake, all your pain, sorrows and sins are washed off.

There are several legends all similar, concerning the formation of this lake and its significance. According to Hindu mythology, Gosaikunda is an abode of Lord Shiva and Gauri. It is believed that Lord Shiva is the creator of the lake because when he thrust his Trishul (holy trident) into the mountain to extract water to drink so that he could cool his stinging throat after he had swallowed poison.

Exotic 108 Glacier Lakes
Gosaikunda is selected as one of the trekking destinations while traveling to Nepal by many foreigners. The main attraction of this trek is an exotic 108 glacier lakes, small to medium in size that is scattered around the Gosaikunda region surrounded by Himalayas range, delightful forest, beautiful scenario and lush wild nature. The mesmerizing view from Loribinayak Manaslu, Ganesh Himal and Langtang range are picturesque.

Gosaikunda trek start from Dhunche, 1950 meters, the district headquarter of Rasuwa, 4 to 6 hours drive from Kathmandu or Syabru Besi in the Langtang Himal, or in Sundarijal in the Kathmandu Valley. When starting from Dhunche, the first day involves a long steady climb to reach Chandan Bari at an altitude of about 3,200 m (10,500 ft). Laurebinayak at about 3,700 m (12,100 ft) can be reached on the second day. At this point, some trekkers choose to climb ahead to Gosaikunda, though altitude sickness is a concern as the ascent is rather steep. Many trekkers choose to stay at Laurebinayak, which also provides sunset and sunrise views of the Langtang and Ganesh Himal. The descent from Gosaikunda to Sundarijal takes about four days and involves a short climb to Laurebina La at 4,610 m (15,120 ft), a rapid descent to Phedi and onwards to Ghopte. Depending on pace, there are options to stay at Thadepati, Mangengoth, Kutumsang and at many villages farther downhill. The trails are well marked, except between Ghopte and Thadepati