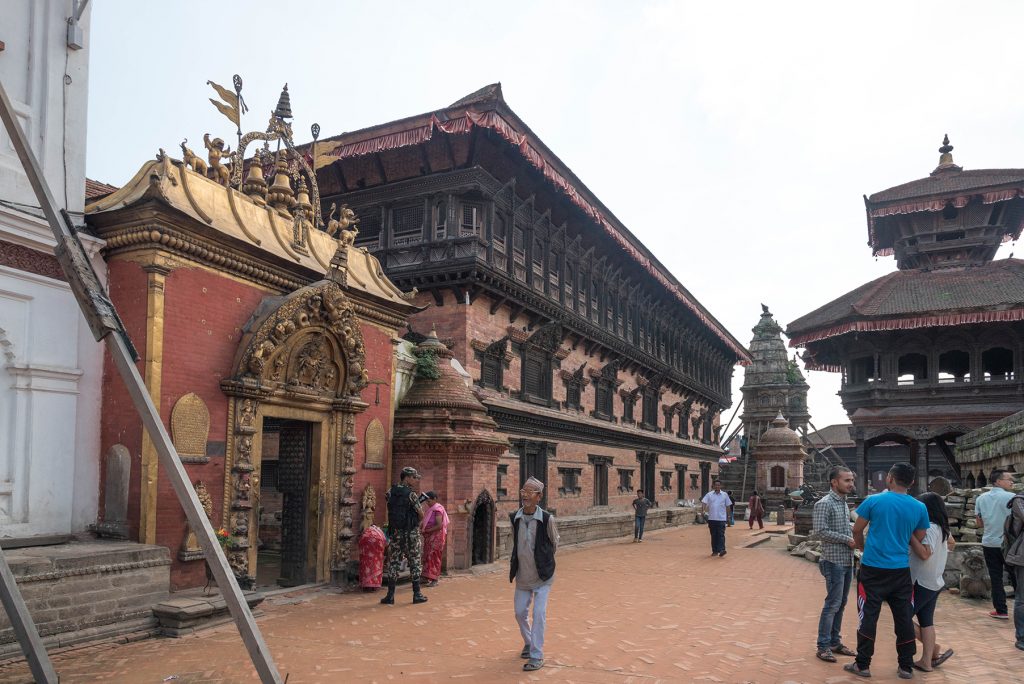 Bhaktapur is one of the three royal cities in the Kathmandu Valley. It is known as the 'City of Devotees', the 'City of Culture', the 'Living Heritage', and 'Nepal's Cultural Gem which is located about 20 km east of Kathmandu. In native tongue Bhaktapur is called as Bhadgaon "The City of Rice" and Khwopa. The population of Bhaktapur is approximately 225,000 with 92% of people Hindu and Buddhist 7%. The main agricultural production of Bhaktapur are paddy, wheat, corn, pulse, millet, citrus, guava, pears, junar, haluwabed, cauliflower, peas, beans, cucumber, and pumpkin. Bhaktapur depends on tourism for about 60% of its revenues and Bhaktapur Durbar Square was added to the list of World Heritage Sites by UNESCO in 1979.
History
Based upon the available facts Bhaktapur was founded in the 12th century by King Ananda Malla. Bhaktapur was capital city of the Greater Malla Kingdom until the 15th century and was an independent kingdom from then until the 18th century. The last three Malla rulers of Bhaktapur were Jitamitra Malla, Bhupatindra Malla, and Ranjit Malla. These rulers played key roles in building the palaces and temples of Durbar Square. Later the city was conquered by Prithvi Narayan Shah in 1768 and relegated to the status of a secondary market town.
Speciality of Bhaktapur
Bhaktapur is filled with monuments, most terra-cotta with carved wood columns, palaces and temples with elaborate carvings, gilded roofs, open courtyards. The city is also famous for a special type of dahi (yogurt) called "Ju Ju(king) dhau(curd) and Bhadgaule topi. This black colored topi, sometimes having a pair of miniature khukuri on its surface, has a unique texture and pattern and is made only in Bhaktapur.
Things to Observe in Bhaktapur
Bisket Jatra, the Nepalese New Year celebration which is one of the big festival that is celebrated in Bhaktapur. In this festival chariots are pulled through the streets and a tug of war over them determines who will be blessed with good fortune in the coming year. This celebration is also observed with picnics and other private get-togethers.
Durbar Square
In Durbar Square the Pachapanna-Jhyale Durbar (Palace with 55 Windows) constructed by Bhupatindra Malla. 55-Window Palace served as the seat of royalty prior to 1769. The palace has elaborately carved windows and doors and houses the National Art Gallery, with Buddhist Paubha scroll paintings, palm leaf manuscripts, and stone carvings.
Nyatapola Temple at Taumadhi Chowk is unique temple of Bhaktapur. The Nyatapola literally means 'Five storied' and rises above the city as a remarkable landmark. It also has the distinction of having withstood the devastating earthquake of 1933. Dedicated to a tantric goddess, the steps leading up to the temple, is flanked by stone sculptures. At the base are two statues of Malla era wrestlers representing humans and in ascending order of power and strength, there are creatures each ten times more powerful than the preceding statue.

Bhairavnath Temple of Bhaktapur is the three storied temple of Bhairavnath. It has only the head of Bhairav in the inner sanctum. According to ancient history it is said that Kasi Bhairav's head was cut off by a tantric expert in order to keep him in Bhaktapur. The temple is built in the pagoda style which stands adjacent to the more famous five storied Nyatapola temple. Bhairav is the dangerous aspect of Shiva. the temple is originally built by King Jagat Jyoti Malla, and was improved by King Bhupatindra Malla, a zealous lover of the arts.

Tourists can watch handicrafts including paubha scroll paintings, papier-mâché masks, cotton cloth, woodcarvings, metalwork, jewelry and ceramic products, haku-patasi (black sari). Potters create works of art in the Pottery Squares. Tourists can experience and cherish authentic Newari culture, tradition and architecture from the traditional alleyways to chowks of Bhaktapur. In addition to this there are other famous places in Bhaktapur as:
Taumadhi Square
Dattatreya Square along with many ponds and traditional stone water taps (dhunge-dhara)
Surya Vinayak Shrine
Bode
Changu Narayan
Gai-Jatra, the Cow festival
Batsala Temple
Golden Gate
Getting into Bhaktapur
Inside the city limits of Bhaktapur, motor vehicles are not allowed. Outside the city limits, buses and taxis are available.