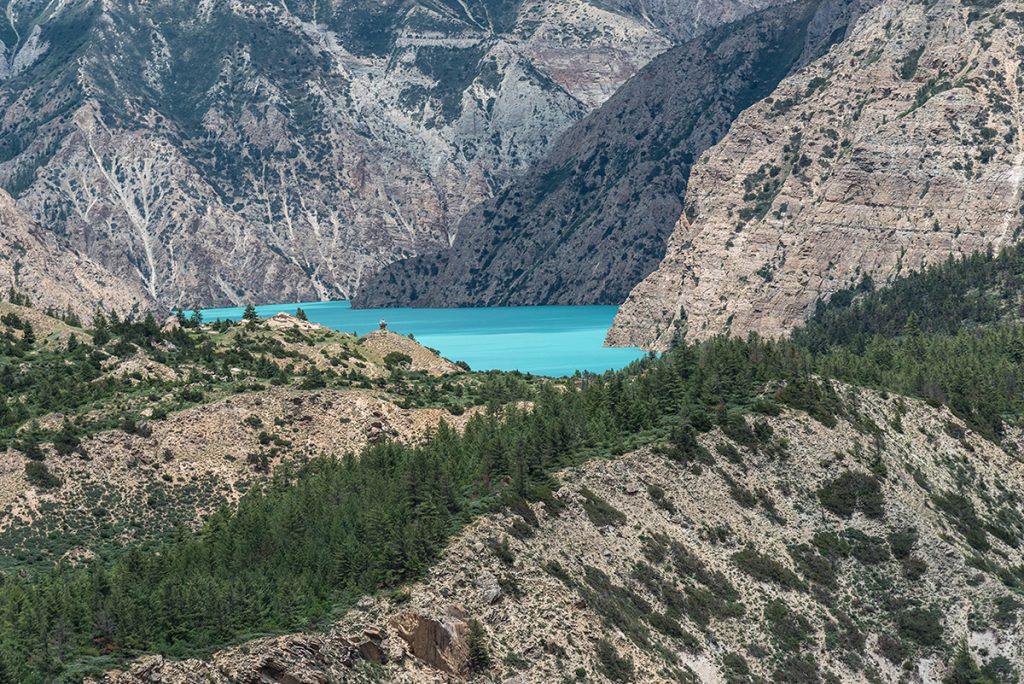 Dolpa region is situated between the Tibetan plateau and the Dhaulagiri ranges and is a part of Karnali province. Upper Dolpo is a remote area to the north of Dhaulagiri mountain range in Mid-Western Nepal. Despite of poverty the region is culturally and naturally rich as abundance of green lush meadows, subalpine and alpine forest and snow-covered mountains.

Home of Snow Leopard
The wilderness of Upper Dolpo is a home to snow leopard, blue sheep, mountain musk deer and more. The entire district depends on yaks, mules, and horses for transportation. One can hardly see the road trails in Dolpa. Roads exist only a few kilometers in lower Dolpo. Upper Dolpo is yet to see a wheel rolling on its land. So, the only opt to explore Upper Dolpo is by trekking.

Tranquil Beauty of Shey-Phoksundo Lake
Upper Dolpa trekking starts through Juphal after a short flight from Nepalgunj. Due to the unpleasant weather most of the time it remains restricted. One has to wait for the perfect seasons as autumn to discover this mystical valley. The trek of the Upper Dolpa goes through the Phoksundo National Park, covering the striking valleys, monasteries and landscape. Trekking to Upper Dolpa helps to explore remote areas and peek into the lives of people living in that isolated world. People here live even above 4000 meters and follow the nomadic pattern of life style and they have different settlements that goes on changing according to the weather. One can experience their amazing Tibetan-influenced Buddhist culture and tradition. The Dolpa district was closed to trekkers until 1989 when the southern part of Dolpa was opened to organized trekking groups. One can experience the grandeur of Nepal's rugged and remote wild west life experience through Dolpa trek. Dolpa borders Tibet, where the culture and much of the landscape is reminiscent of its northern neighbour. The western part of the district is home to the Shey-Phoksundo National Park which is the largest and only trans-Himalayan national park of Nepal. The Upper Dolpa trek passes through interesting villages, few Himalaya, trekking routes, fascinating people and enjoy the vast and tranquil beauty of Phoksundo Lake.

Remote but Natural
Being remote and as well as underdeveloped and quite poor, trekking in Dolpa is challenging as the tourism infrastructure is almost non-existent. It is necessary to camp and carry own food supplies and organized tours are essential. On top of that permits are expensive, and one cannot trek in Upper Dolpo independently. But the expeditions are worth it – Tibetan Buddhist culture, some of the oldest monasteries in the country along with the 800-year-old Shey Monastery, the spectacular Lake Phoksundo, rare wildlife including the elusive snow leopard, and a real sense of being in the wilderness.

Highlights of Upper Dolpo Trek
Shey-Phoksundo Lake
Shey-Phoksundo National Park
Kanjirowa and Crystal Mountain
Tibetan Buddhism and Bon people
Shey Gompa, Yangze Gompa, and Bon Gompa
Nomadic lifestyle of locals
Caravans of yaks, mules, horses, and sheeps
Blue Sheep, Musk deer, Monkeys
Villages above 3500 meters
Yarshagumba- a medicinal herb
Kang-La, Shey-la, and Choi-La passes above 5000 meter