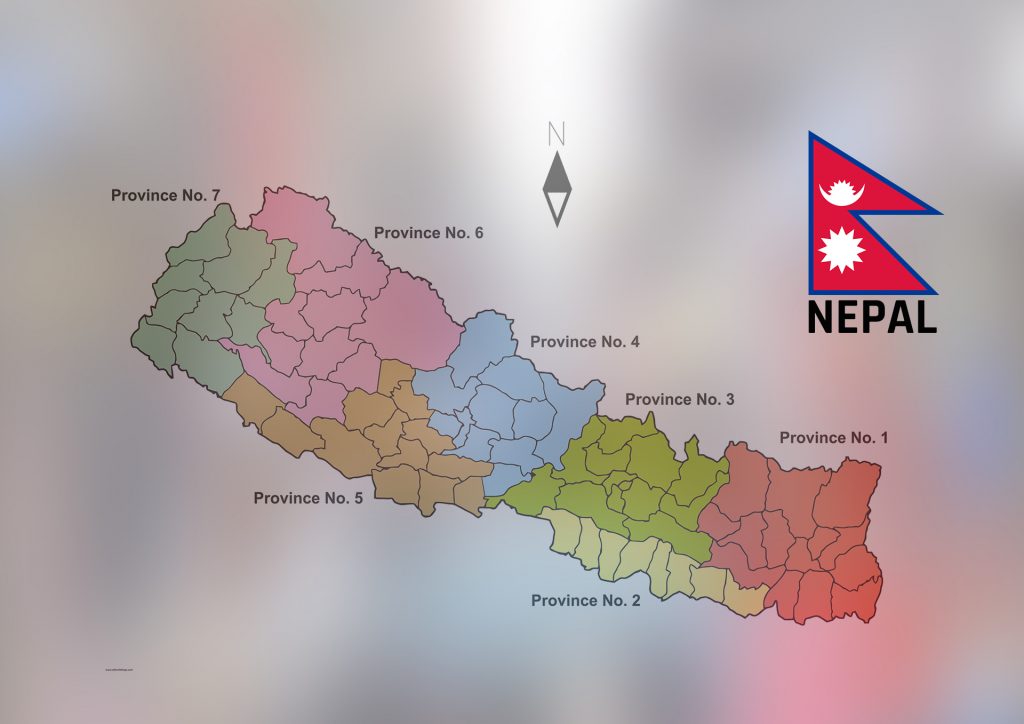 Map of Nepal
Nepal is a landlocked country with India and China as its neighboring countries. Nepal is surrounded by India in East, West and South and China in North. The map of Nepal is rectangular in shape. Its length runs 885 kilometers from East to West and breadth varies from 145 to 241 kilometers from North to South. Geographically, Nepal lies between 26° and 31°N latitudes and 80° and 89°E longitudes. Nepal is the 94th largest nation in the world with a total area of 147,181 square kilometers and water area of 3,830 square kilometers.
Three Geographical Regions
Nepal is divided into three main geographical regions: Himalayas, Hill and Terai, running horizontally from East to West.
Himalayan Region
The altitude of Himalayan region ranges between 4877 meters and 8848 meters with the now line running around 488848 meters. It occupies 15 percent of the total area of the country. The Himalaya and its foothills make up the northern border of the country. It includes 8 of the existing 14 summits in the world which exceed the altitude of 8000 meters. They are: (1) Sagarmatha (Mt. Everest) – 8848 m (2) Kangchenjunga – 8586 m, (3) Lhotse – 8516 m, (4) Makalu – 8463 m, (5) Cho Oyo – 8201 m, (6) Dhaulagiri – 8167 m, (7) Manaslu – 8163 m, and (8) Annapurna – 8091 m. The climate here is very cold.
Hilly Region
Hilly Region lies between Himalayan and Terai regions and covers about 64 percent of total land area. The Mahabharat range rises up to 4877 meters forms it. To its south lies the lower Churia range whose altitude varies from 610 meters to 1524 meters. The climate of hilly region is moderate neither too hot nor too cold.
Terai Region
The lowland Terai region has a width of about 26 to 32 kilometers and an altitude maximum of 305 meters. It occupies about 17 percent of total land area of the country. Kechanakawal, the lowest point of the country with an altitude of 70 meters lies in Jhapa District of the eastern Terai. The climate of Terai region is very hot as Terai is nearly up to 600m high from the sea level.

5 Development Regions of Nepal
Nepal was divided into 14 zones and 75 districts and 5 development regions before the promulgation of a new constitution in 2015.
The five development regions of Nepal were:
Eastern Development Region
Central Development Region
Western Development Region
Mid-Western Development Region
Far-Western Development Region
7 Province of Nepal
Nepal was divided into 14 Administrative Zones which were grouped into five Development Regions. The seven provinces were formed by grouping the existing districts. The current system of seven provinces has replaced an earlier development regions.

| Province | Capital | Districts |
| --- | --- | --- |
| Province No. 1 | Biratnagar (Temporary) | 14 |
| Province No. 2 | Janakpur (Temporary) | 8 |
| Province No. 3 | Hetauda (Temporary) | 13 |
| Province No. 4 (Gandaki Pradesh) | Pokhara | 11 |
| Province No. 5 | Butwal (Temporary) | 12 |
| Province No. 6 (Karnali Pradesh) | Birendranagar | 10 |
| Province No. 7 (Sudurpaschim Pradesh) | Godawari | 9 |
14 Zones and 77 districts of Nepal
After the state's reconstruction of administrative divisions, Nawalparasi District is divided into Parasi District and Nawalpur District and Rukum District is divided Eastern Rukum District and Western Rukum District. Districts in Nepal are second level of administrative divisions after provinces.

| S# | 14 Zones | 77 Districts |
| --- | --- | --- |
| 1 | Mechi Zone | Illam, Jhapa, Panchthar, Taplejung |
| 2 | Koshi Zone | Bhojpur, Dhankuta, Morang, Sankhuwasabha, Sunsari, Terathum |
| 3 | Sagarmatha Zone | Khotang, Okhaldhunga, Saptari, Siraha, Solukhumbu, Udayapur |
| 4 | Bagmati Zone | Bhaktapur, Dhading, Kathmandu, Kavrepalanchok, Lalitpur, Nuwakot, Rasuwa, Sindhupalchowk |
| 5 | Janakpur Zone | Dhanusa, Dolkha, Mahottari, Ramechhap, SarlahiSindhuli |
| 6 | Narayani Zone | Bara, Chitwan, Makwanpur, Parsa, Rautahat |
| 7 | Dhawalagiri Zone | Baglung, Mustang, Myagdi, Parbat |
| 8 | Gandaki Zone | Gorkha, Kaski, Lamjung, Manang, Syangja, Tanahu |
| 9 | Lumbini Zone | Arghakhanchi, Gulmi, Kapilvastu, Parasi, Nawalpur, Palpa, Rupandehi |
| 10 | Bheri Zone | Banke, Bardiya, Dailekh, Jajarkot, Surkhet |
| 11 | Karnali Zone | Dolpa, Humla, Jumla, Kalikot, Mugu |
| 12 | Rapti Zone | Dang, Deokhuri, Pyuthan, Rolpa, Eastern Rukum, Western, Rukum, Salyan |
| 13 | Mahakali Zone | Baidadi, Dadeldhura, Darchula, Kanchanpur |
| 14 | Seti Zone | Achham, Bajhang, Bajura, DotiKailali |