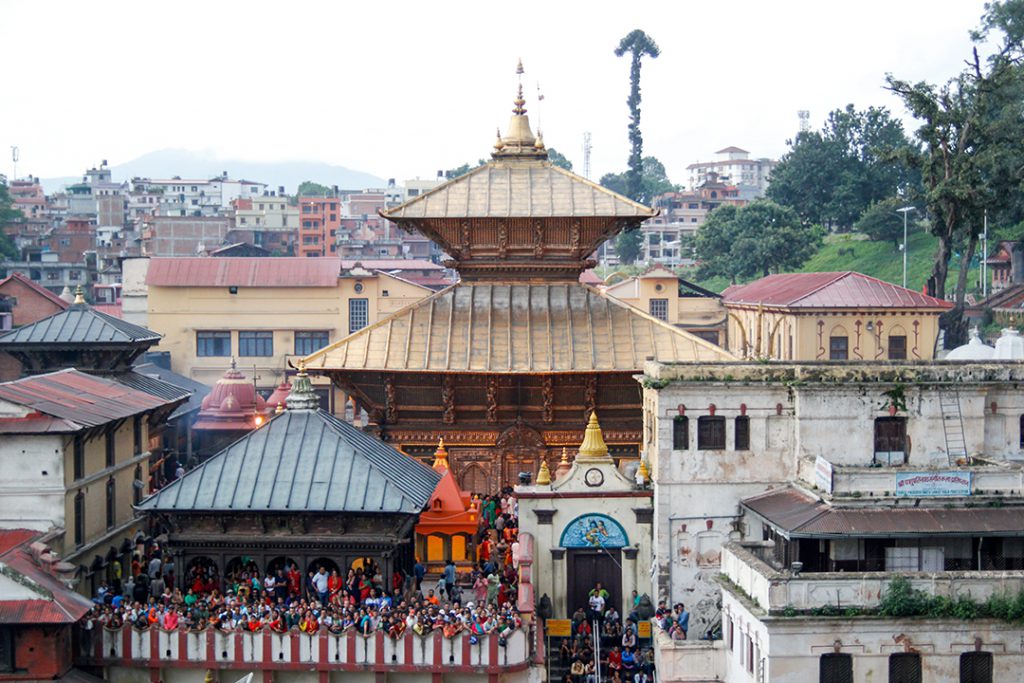 Pashupatinath Temple is one of the most sacred and largest Hindu temples of Nepal which is dedicated to Lord Shiva. It is located on both banks of Bagmati River on the eastern outskirts of Kathmandu. The temple serves as the seat of Nepal's national deity, Lord Pashupatinath. The temple complex was inscribed on the UNESCO World Heritage Sites's list in 1979.
History
Pashupatinath Temple's existence dates back to 400 A.D. The exact date of construction of this temple is not clearly known. Some believed that this temple was founded in 3rd century BC and a king named Pashupreksha of Somadeva Dynasty had constructed it. Other says that the temple was constructed in the15th century by King Shupuspa of Lichhavi dynasty. There was countless big and small temples, constructed along with the main foundation.

There were many legendary stories behind the formation of this temple and has their own importance. Lord Shiva once took disguise as an antelope and other gods found him and grabbed his horn. They forced Shiva to come back to this original divine form. The broken horn was found by a herdsman, whose cow was showering the earth with milk. The broken horn came up from that point. It is now worshiped as the linga of Pashupatinath. According to Nepal Mahatmaya and Himvatkhanda, the deity here gained great fame as Pashupati, the Lord of all Pashus, which are living as well as non-living beings.
Things to Explore at Pashupatinath Area
The two storied pagoda style temple has a gilded roof, four sides covered in silver, and wood carvings of the finest quality. The inner sanctum has a Shiva lingam and outside sits the largest statue of Nandi the bull, the vehicle of Shiva. Only Hindus are allowed inside the gates of the main temple and non-Hindus are strictly prohibited to entering the main temple. There are hundreds of Shiva lingam within the compound and around 492 temples, 15 Shivalayas and 12 Jyotirlinga (phallic shrines). The temple area also includes Deupatan, Jaya Bageshori, Gaurighat (Holy Bath), Kutumbahal, Gaushala, Pingalasthan and Sleshmantak forest. Every year this temple attracts hundreds of pilgrims. The north-eastern corner of temple consist a temple of Vasuki, the king of nagas. Nearby is the temple of Guheshwori dedicated to Shiva's consort Sati Devi. Next in line is the Arya Ghat which holds a place of superior importance where you can get the holy water of Pashupatinath Temple. Cremation of Hindus take place on raised platforms along the river.
Festivals
There are many festivals throughout the year and thousands of people attend these festivals. The most important festivals are the Maha Shivaratri, Bala Chaturthi festival, and Teej festival. Thousands of devotees visit the temple during Maha Shivaratri and Teej.