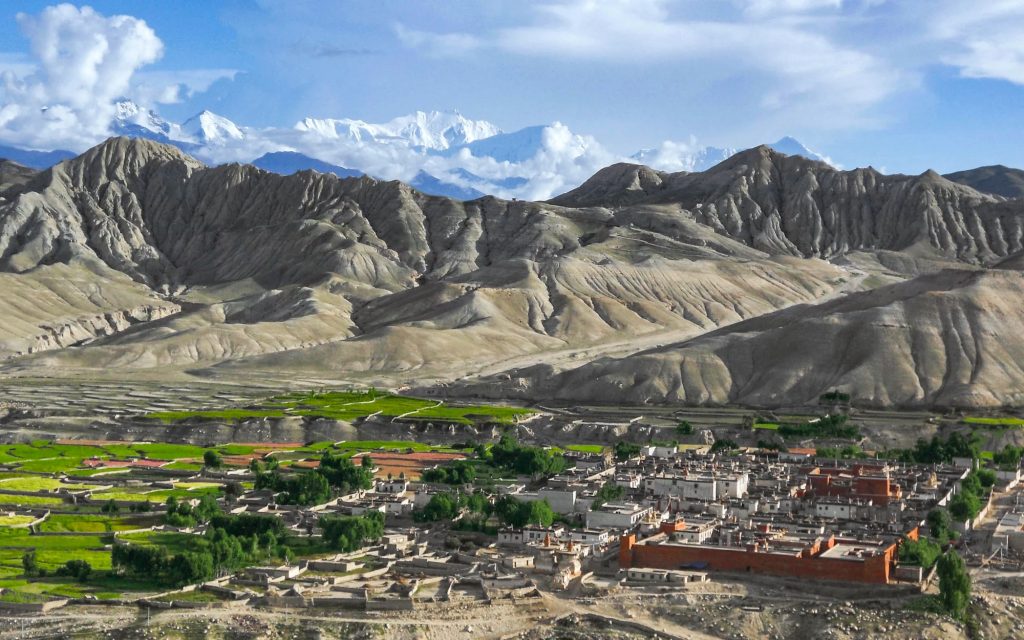 Mustang (from the Tibetan montang (Wylie: smon-thang), Nepali: मुस्तांग Mustāṃg "fertile plain"), once Kingdom of Lo, is a remote and isolated region of the Nepalese Himalayas. The majority of the population of Mustang still speaks traditional Tibetic languages. Upper Mustang consists of the northern two-thirds of Mustang District of Dhawalagiri Zone, Nepal. The southern third of the district is called Thak and is the homeland of the Thakali, who speak the Thakali language. The culture of Thak is the combination of Tibetan and Nepalese elements.
The Last Forbidden Kingdom
Upper Mustang is also known as the Last Forbidden Kingdom of Nepal because the tourists were not allowed to enter the region till the 1990s. Tibetan culture has been preserved by the relative isolation of the region from the outside world.

The center feature of Mustang is the Gandaki River which runs southward towards Nepal Terai, bisecting Mustang. Routes paralleling the river once served as a major trade route between Tibet and India, especially for salt. Part of the river valley in the southern Mustang District forms the Kali Gandaki Gorge the deepest gorge in the world.

The inhabitants of Upper Mustang are either Thakalis, Gurung or, in traditional Mustang, primarily Tibetan. Life in Mustang revolves around tourism, animal husbandry and trade. The administrative center of Mustang District is at Jomsom (eight kilometres (5.0 mi) south of Kagbeni). There is an airport since 1962 and has become the main tourist entry point since Mustang was opened to western tourism in 1992.

Lo-Manthang – the Kingdom of Lo
Since the Upper Mustang lies in the rain shadow of the Annapurna and Dhaulagiri ranges the climate is a trans-Himalayan. The climate is cool and semi-arid with precipitation in the range of 250–400 mm (9.8–15.7 in). Mustang is rich in Buddhist culture, similar to the area of the Tibet Autonomous Region of the People's Republic of China. It is an alternate way to experience the Tibetan culture and landscape to the tours provided by the Chinese government. Tiji festival in Lo-Manthang is another must observe festival for tourists in the area seeking to experience the native culture. Tiji the name is an abbreviation of the word "Tempa Chirim" which means "Prayer for World Peace". Tiji is a fascinating annual three-day festival consisting of Tibetan rituals. It celebrates the myth of a son who had to save the Mustang kingdom from destruction. The festival is indigenous to Lo-Manthang, Upper Mustang.

Upper Mustang trek offers a spectacular trekking experience in the remote trans-Himalayan mountain region of Nepal. It offers the uniqueness of treeless landscape, rocky trails and mesmerizing views of Nilgiri, Annapurna, Dhaulagiri and other Himalayas.